Police in France have found nearly 3.5 tonnes of weapons, explosives and other material in eight caches handed over by Basque separatist group Eta.
Prime Minister Bernard Cazeneuve said the weapons would be destroyed.
Eta – which says it has now surrendered all its weapons – killed more than 800 people in some 40 years of violence in pursuit of an independent country straddling France and Spain.
Mr Cazeneuve hailed the move but Spain called on Eta to disband.
Eta declared a ceasefire in 2011 but did not disarm.
IS and Eta: Is terror threat to Europe greater today?
The caches contained 120 firearms, three tonnes of explosives and several thousand rounds of ammunition, a spokesman for the Artisans of Peace, the group which mediated between Eta and the French authorities, said earlier.
Are France and Spain happy?
"The government will not change its position: terrorists cannot expect favourable treatment… much less impunity for their crimes," Spanish Prime Minister Mario Rajoy said in a statement.
The BBC's Guy Hedgecoe in Madrid says the typically cool response from the Rajoy government shows its determination not to be seen to be giving any ground, as well as reflecting the overall scepticism regarding Eta among the political class in Madrid.
Despite its weak position, Eta and its political supporters now want some kind of concession, such as moving prisoners to Basque jails, our correspondent says – but there is no sign the government will allow this.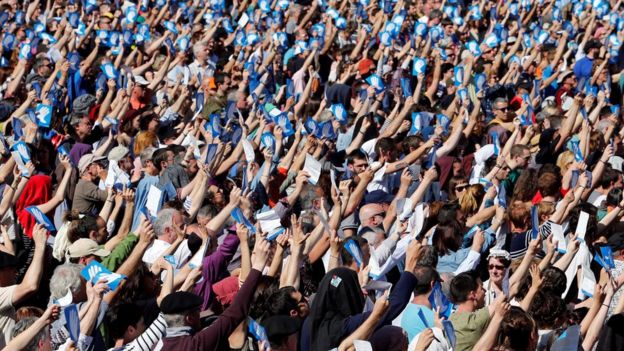 The French prime minister said the Eta move was "a decisive step towards the end of Basque separatist terrorism".
"Whether the disarmament is, effectively, total will also be established," Mr Cazeneuve added.
Thousands of people joined a pro-Eta rally in Bayonne to mark "Disarmament Day" on Saturday afternoon.
The handover ceremony – the BBC's Lyse Doucet in Bayonne
A simple ceremony in a city hall ended Eta's campaign for independence. In an elegant, high-ceilinged room, five people sat around a table as early-morning light filtered through the drapes.